Oh, hello. It's me. I'm in South Carolina dreaming of the things this blog could be. Ok, I will stop now. But hi if you don't know who I am my name is Nabila and if you like my blog or if you are just feeling happy or sad or any emotion at the moment feel free to follow. It makes me happy. So if you don't know today is July 4th, 2017 or the 4th of July which in the US means independence day. A day to celebrate the awesomeness of America by hanging out with friends, doing something related to red, white and blue, and seeing fireworks (if you want to see my post filled with 4th of July DIYs you can go
here
). Today because of what today is I am going to be trying to make you laugh or just think by listing some quotes, gifs, and memes relating to the 4th of July. I like doing these posts and to tell you the truth they are pretty easy and you guys might like them so that's what I'm doing. Enjoy!
*none of these images are mine
But if you really think about it. Think about any food you ate today. Do you know the actual ingredients in any of those foods? The answer is probably no.
Isn't this cool? I like this quote. Always think of the things you have as an opportunity and not as a privilege. My dad tells me this a lot and although he says it to get me to do my chores it is also a good motto for life.
I thought this was cool.
I only half get this but it is funny so why not.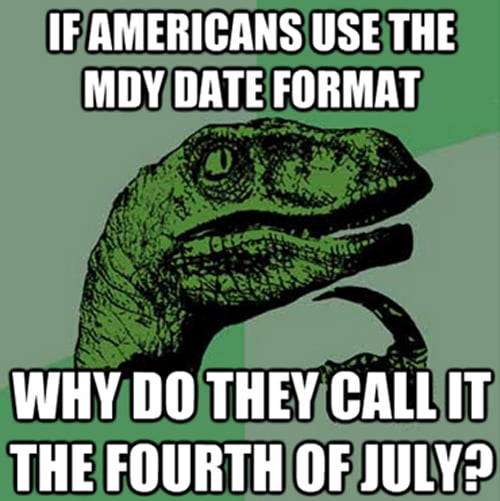 THIS CONFUSES ME AS WELL. It is the same for all of the other holidays that we call the dates. Like why can't we just call it how we say every other day. Or call it independence day. Like seriously. Very confusing.
What if? What if?
This is so cute!
Lol. That is pretty much all people do on the Fourth of July. It is really hard to take photos of fireworks though. I know from experience.
Old school gif.
The dog is adorable.
Kitty cat.
Fireworks!
Firework by Katy Perry is seriously one of my favorite songs of all times. Last year today I just sang that on repeat and I have been today as well.
Bye!
So did any of you guys laugh? If not then I have failed you. I'm sorry. But if you did laugh then comment down below which thing made you laugh because I want to know. Also do you guys like these kinds of posts? I always ask this questions and none of you ever answer me. So do any of you guys have any cool plans today? Maybe going to see fireworks or going to a friends house? Do you have any fun 4th of July traditions? Which image type thing in this post did you like the most? If you don't live in the US then just what did you do today? I want to know. I'm also definitely not a creepy stalker. Definitely not. Bye now! Have an amazing rest of your day/night/morning/afternoon. :)