I am the queen of long titles. I just am. So if you know anything you will know that currently memes kind of rule the world. They can literally destroy a person's life. They can also change a person's life. For example that baby meme with the fist that everyone has seen. That baby will probably be famous for life. If you don't know what a meme is it is a picture usually with words on it. Google says it is "
a humorous image, video, piece of text, etc., that is copied (often with slight variations) and spread rapidly by Internet users".
Memes are pretty cool things. You can also send memes to people. Hence this post. I am going to list
17 Memes and Gifs (which is like a moving picture for people who don't know) You Have To Send To Your Friends On Their Birthdays.
So if you have a friend with a birthday you can send one of these to them and maybe make them smile.
*note none of these images are mine and if they are yours say so and I will give credit
I'm sorry. I really am. This could be so so funny though. Just send it to a friend that will laugh instead of like hate you forever.
This might not be actually wishing someone happy birthday but it is still very funny.
Pretty but simple but also a compliment. Perfect.
When you can reference Adele and wish your friend happy birthday you basically have to do it.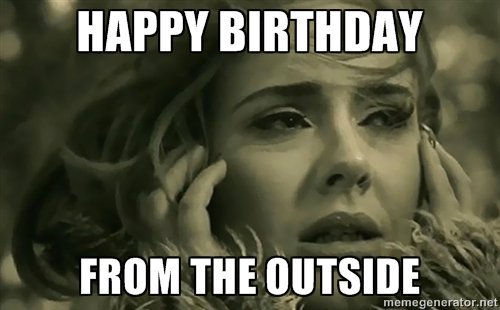 It was so amazing I had to do it twice.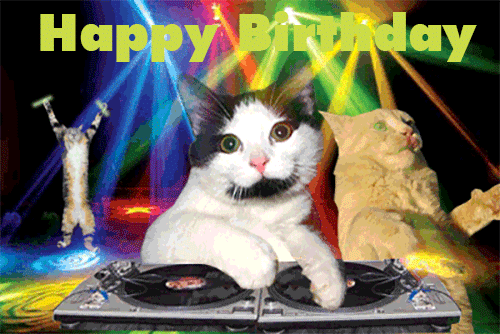 I sent this to one of my online friends a couple days ago (all of you guys should go tell her a late happy birthday at
her blog here)
and she said it was cool.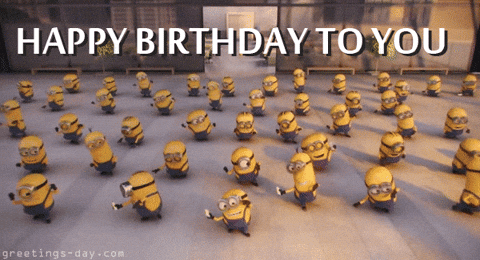 The MINIONS!
Like how cool is that cat? There are no words to express how cool this cat is. Like I want those glasses.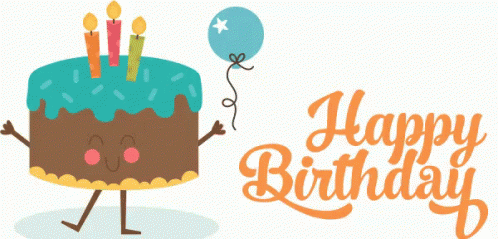 Cute and simple.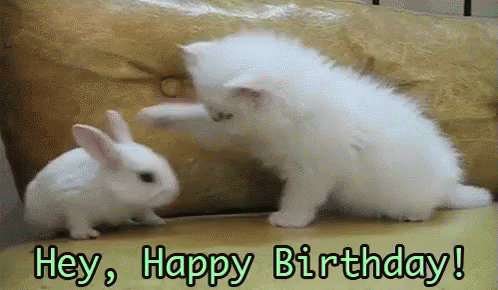 I seriously want a bunny. Like I saw a little witty bunny the other day and I fell in love, sadly I didn't get it. The above image is so cute though.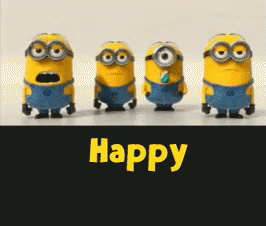 More MINIONS.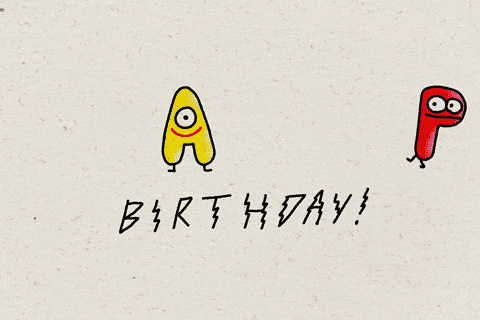 I love this one for some odd reason.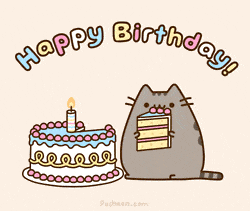 Yes. Just yes.
It's like those candles that never stop burning.
Like Adele when you can use Pokemon for anything it is a lost opportunity not too.
I will.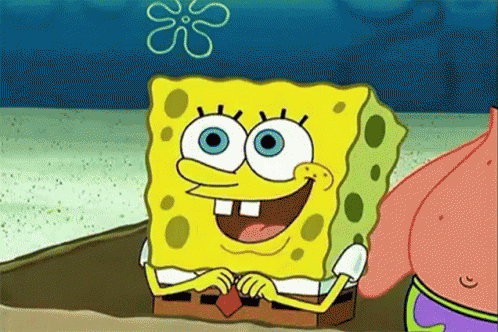 Last but not least SpongeBob.
I feel so proud of myself. Why you ask. Oh well because I said this post was going to be only 11 originally and then I got 17. I usually set a goal like that and then end up doing only 7 or 6. Any bloggers will relate to me. Also, I love how I made the whole intro about memes and then mostly put gifs. I am just so misleading like that. So did any of you wonderful people enjoy this post?? Maybe? Possibly? If you did then I would absolutely love if you could follow my blog (I no joke do a happy dance everytime I get a follower). Should I do more posts like this? Do any of you guys have birthdays coming up? What do you usually do for your friends when they have birthdays? Do you like memes and gifs? What are your favorite memes and gifs? For my birthday in 4 months if anyone comments or sends me any of these and actually remembers this post I will explode and then shout you out in a post.