As most of you know easter is just around the corner. It is in like a week or something. I'm not sure when it is exactly but.... It is very soon! So in true blogger nature I have decided to do a easter themed post. I did one
last year
and it wasn't like the worst thing I ever did but still. So this year I am rounding up some of my favroite DIY's all in one post. Here are 9 Adorable, Easy and Cute Easter DIYs. Enjoy!
*none of these are mine and I will be linking to the sites
This is like the cutest thing in the whole world. You just need some flowers and an old chair and then you have like the cutest bunny in the whole world.
1.
DIY Recycled Easter Bunny Vases
I love garlands and I must say this one perfectly captures easter.
2.
Simple Easter Garland
I can't decide if this is stupid or absolutelly amazing. I am leaning toward amazing. I am sure though that it would be so cute or a party or get together.
3.
Carrot Napkin Utensil
I also have a thing with pom poms so this is something that I could actually maybe make without destroying it and it might also be cute. It takes skill to make something like that.
4.
Pom Pom Bunny Garland
I couldn't not include these. When I saw them I was like what??? They are kind of awesome though.
5.
DIY Emoji Eggs
How simple but adorable these things are is killing me! A perfect way to decorate while giving a reason to have more candy. What is not to love?
6.
Bunny Easter Treats
They just looked so good.
7.
Easter Bunny Cinnamon Roll
This is like half easter and half spring but 100% bueatiful and awesome. Like what could be more simple fairy like than this centerpiece thing.
8.
Rainbow Centerpiece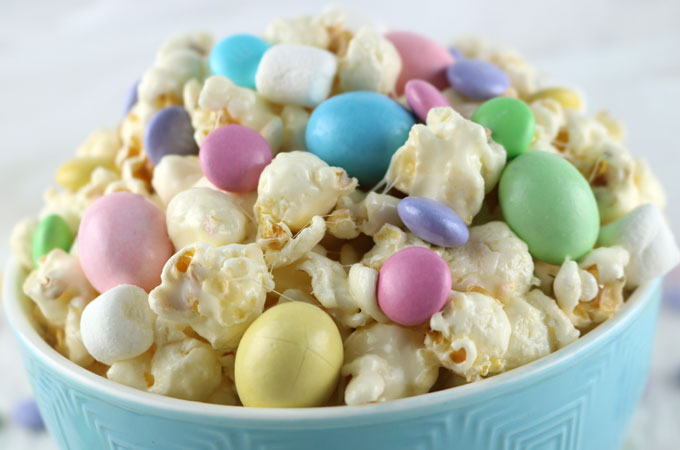 My mouth is watering! And now I want popcorn. And candy.
9.
Easter Popcorn Candy
And that is it! I hope you enjoyed this list of some cute easter DIYs. If you do any of these send me pics and also tell me in comments which DIY was your favorite and what kind of post you would like me to do next. Bye!